Joint Asia India Conference 2009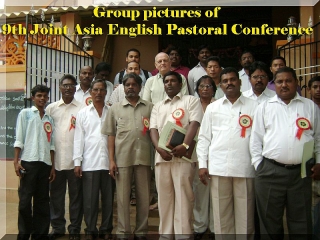 [See pictures below]
Missionary David Koenig and Pastor Jyothi Benjamin report on the recent Pastoral Conference in Nellore, India, involving representatives of the BELC and CLCI (India), UMLC (Myanmar), and HCLCN (Nepal). Included also is a photo gallery from this blessed event.
____________________________________
Rev. David Koenig writes: "Representatives of four church bodies met in Nellore, India for two days in October to hear reports on the work. Seven men each came from the CLCI and the BELC of India. For the first time we invited Pastors Thang and Kham from the CLC of Myanmar and Pastors Raju and Rajan from the Himalayan CLC Nepal. One very important matter we considered was how we are reaching out. In India we are looking to go especially into villages where there is no Christian witness. While we  go into other villages also, we keep keep alert for the unreached above all. In Nepal the men are facing an even smaller percentage of Christians among the population than in India. Although in Myanmar the outreach through the years has been among the tribes, the CLCM is very concerned about reaching out to the Burmese, who are very unevangelized. Opportunities abound for these four church bodies to work in their native countries. While in the USA we find a lot of churches, if one goes to many foreign lands it is not so. It is estimated that 99% of the unevangelized live outside the USA and Canada. Ninety-one percent of foreign missionaries minister to professing Christians, not the least-reached. We are trying with our foreign brothers in our small way to go to the unreached. Pray that the 18 men who met in Nellore will be strengthened by the Gospel, which we heard in abundance, to lead their church bodies into the villages where Christ is not worshiped."
____________________________________
October, 2009
Dearly beloved,
Greetings in the saving name of our Lord and Savior Jesus Christ, through whom all blessings flow.  It's a joy to write you about the 9th Asia English Pastoral conference 2009. We all have enjoyed blessings from this conference this year also. It was extremely nice of everyone who were able to participate in this pastoral conference. I am sure that all the delegates are greatly encouraged by the enthusiasm generated through this Joint Asia Pastoral conference 2009. The excellent mission reports presented in this conference have added an extra fuel to next year's Joint pastoral conference Gospel fire. We praise God for the rich input that we have received from our honorable beloved CLC missionary, Rev. David Koenig.
On behalf of the Joint India Pastoral conference – 2009, we also express our sincere thanks to the Chairman of the Mission Board – Rev. Bruce Naumann, for his wonderful and encouraging message and greetings.
Every time we prepare for this type of joint pastoral conferences, we are again reminded of the humble beginnings of our missions.   At the beginning, we had practically no idea of how these conferences would grow up into what it is now. "This is the Lord's doing; and it is marvelous in our eyes!"
Once again I shake hands with you all for your participation and in praising God for His goodness, and hope and pray that we meet you all in the next year's conference.  Thank you all once again.
I remain, sincerely yours in Christ, Pastor Jyothi Benjamin