Domestic Mission congregation series: Sioux Falls, South Dakota
Domestic Mission congregation series Berea Lutheran Church, Sioux Falls, South Dakota.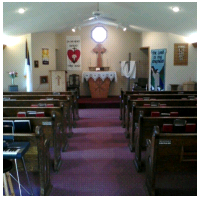 For just about 11 years now the members of Berea, Sioux Falls, have maintained a ministry which is currently called "Friends on Fridays." This ministry involves serving people in the Sioux Falls community who receive services from an organization called South Dakota Achieve. The stated goal of SD Achieve is "We find innovative ways for people with disabilities to achieve their dreams." What began under the direction of Pastor John Hein those 11 years ago, has now come to be known as "Friends on Fridays", with Pastor Mark Gurath serving the clients of Achieve on several Fridays each month at 2 PM. In the beginning clients were transported to the church on E. Madison Street for a Wednesday night service. When transportation became an obstacle, services were moved to the main facility of Achieve on Western Ave. in Sioux Falls.
On these Fridays at Achieve a brief service is conducted which includes songs, clapping and hand motions, all centered around a brief Scriptural lesson appropriate to the church year. Persons in attendance over the years have numbered from 5 to 45 and everywhere in between. No matter the number present, the name of the Lord is praised and literally shouted by those in attendance. It is not uncommon for some to shout out all manner of praises as we sing and talk about the Lord Jesus.
What has made this ministry even more valuable is the person to person contact we have with those who so desperately need the Gospel in Word and Sacrament. Speaking as the current Pastor, I have been called on to provide individual counseling to persons with disabilities who have suffered the loss of a friend or loved one. On a number of occasions I have conducted funeral services or memorial services for those persons whom I had the privilege to serve with the Word, but otherwise had no church home or family to speak of. Through this ministry I have been enriched and blessed personally, as well as the congregation being lifted up and encouraged by this reaching out to the community with the Word.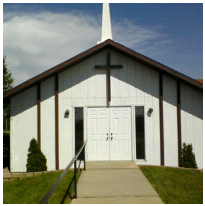 The blessings of this ministry came into focus in March of 2010 when a young lady named Amy Mager was brought into God's family through the washing of Baptism. Amy had attended our Friends on Friday services over the years, always participating in what we were doing. As is the case with many individuals with severe developmental disabilities, Amy suffered from a host of health problems, most notably frequent bouts with pneumonia. As she approached the final weeks of her life, I was asked to call on Amy and minister to her with the Gospel. On my first visit I inquired if Amy had ever been baptized. As I found out a week later she had never been baptized to anyone's knowledge. Not having any family or church home, I gladly served this young lady as best I could. Receiving an urgent call on a Wednesday in March, I learned that Amy had taken a turn for the worse and only had hours left to live. Returning to Sioux Falls from an out of town Lenten service, I administered the Sacrament of Holy Baptism on Amy Mager sometime around 10 o'clock at night. Just hours later the Lord sent His angels to carry this precious soul to Himself in eternal rest. Several days later I also had the privilege to address her friends and service providers at Achieve while conducting a memorial service, to which more the 60 persons attended.
Through this ministry, the Lord has brought this soul to Himself, along with many others to be sure. The members of Berea are blessed tools in the hand of the Lord as He does His work through us in this gospel outreach. We pray that the Lord would continue to bless us as we carry out this labor of love to the disabled in our community.
For the members of Berea Lutheran Church,
Pastor Mark Gurath